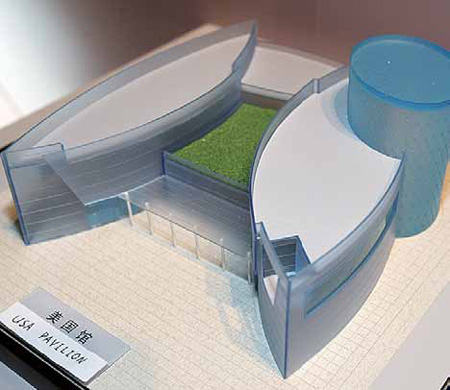 "Fear not: The pavilion will not resemble the mobile home shacks the Bush administration gave to Southerners displaced by Hurricane Katrina. Do expect a nice blast of air and a spray of water - in a good way..."
China Daily copy editor
Brad Webber wryly spells out the struggles the USA Pavilion has overcome
to bring itself into existence, conveying the spirit and optimism of the enterprise, and remembering his own visit as a youth to Spokane Expo 74. Well-written, well-informed and well-observed.
Update: Monday 16 Nov, US Secretary of State
Hillary Clinton visits the expo site
and calls for more sponsorship support.
Update:
US Pavilion is recruiting
for a variety of positions.
Update:
Pasadena Rose Parade to feature Shanghai Expo 2010 float
.